Welcome to The Blazin' M Ranch! 
 ~ Western Frontier Town, Dinner and Show~
Located just 20 minutes from Sedona, in Cottonwood, Arizona, is the Blazin' M Ranch.  The Blazin' M Ranch features a Western Frontier Town which includes a full service saloon, shopping, wagon rides, and other western activities.  On show nights, the Blazin' M Ramblers perform a 1 hour Western show after we serve up a delicious Chicken & BBQ Rib Dinner!  Keep reading to learn more about the unforgettable Western Experience that we have here at the Blazin' M Ranch!
We're in the top 10% of attractions worldwide, according to TripAdvisor! 
A Recent Customer Review…
"FUN, Heartwarming evening! The energy & friendliness of the staff, from walking in to walking out was spectacular. Highly recommend for everyone and ALL ages! In addition to the variety pre-show activities, there is a full bar, saloon, and a delicious dinner! The show is fresh, clever, and the
performers & musicians are superb! What a treat to have this first class experience in Cottonwood~"
– Roxanne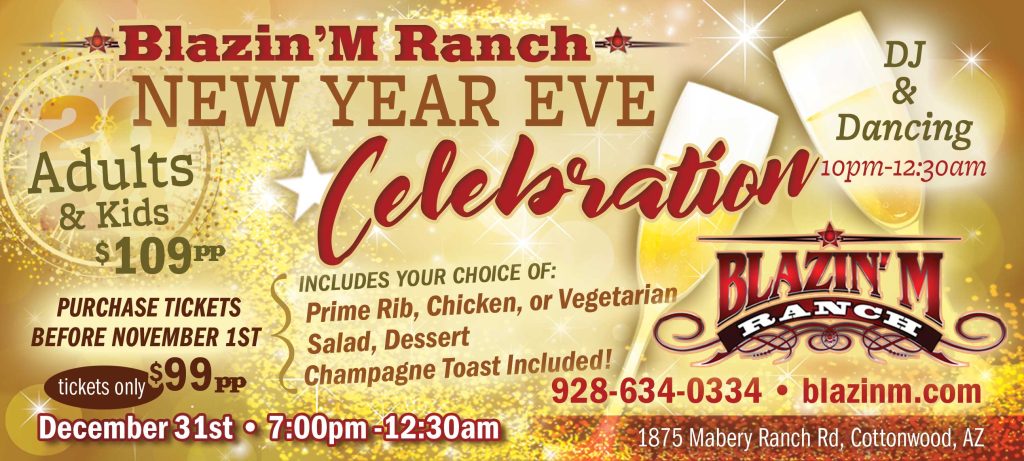 We had a great time at the Blazin M! When we entered the courtyard, there were scores of people enjoying the various activities. The show was so fun, the food was delicious and plentiful! We're planning on getting a group together for the Christmas show!
My 18 year old son and I had such a great time! Food and entertainment were great. Talented performers! Loved all the extra activities pre show. Ax throw, escape room, bull ride, old timey pics, saloon and shops and more. Well worth the VIP price. Would definitely return.
You all EXCEEDED our expectations!!!! We have been to other places like this and this was the BEST experience!! Thank you so much for making our visit and experience at Blazin' M Ranch INCREDIBLE!!
This was a nice country western show and dinner. We enjoyed it. The staff was full of fun and energy! I recommend the bull riding and axe throwing! The band and singers were super duper. It was like a Branson show!
My husband and I visited and loved it. The interactive games were fun and easy for any age to enjoy. The food and scenery were great. The show was very entertaining. We will be back with our grandkids.
Staff was exceptionally pleasant, interacting with everyone and making them feel part of the experience. Food was great, and show was fun. Nice place to get away from the stress of the city. Will definitely come again. Looking forward to glamping in covered wagons in 2024.
After our wonderful dinner, we were treated to a wonderful show of comedy and music mixed together from very talented cast and band. Especially talented was the guitar/piano player that really put on quite the show himself! Fun for folks of all ages.
The show was exceptional! Words cannot describe how much fun we had as a family. The activities, food, show and songs were all so well done! You guys put alot of effort and thought into every part of this experience and it was quite evident.
What to Expect at Blazin' M
The gates of our Frontier Town open at 5:00pm. You'll find a real western saloon, axe throwing, bull riding, wagon rides, shopping, ropin', and other fun activities for people of all ages!
At 6:30pm, we ring the dinner bell and serve up a delicious Chicken & Rib Dinner with home-made biscuits, prickly pear coleslaw, and a baked potato, all served with Iced Tea, Lemonade and Water!
Then at 7:30, after a scrumptious dessert, the lights dim and the Western Stage Show begins! The Blazin' M Wranglers play an array of western hits, including songs by Chris Stapleton, Jerry Lee Lewis, Kenny Rogers, Bob Willis & The Texas Playboys, and a few of their own!
"Food was great and the entertainment was even better. Wholesome family night out."
~ Viktor B

Experience the Wild West like a true VIP with Blazin' M Ranch in Cottonwood, Arizona! Enjoy exclusive amenities like premium seating and escape room entry passes as well as an Old Time Photo Shoot with you and your Posse which includes pictures to take home with ya! With the VIP Experience package, you'll also receive one free drink ticket and an unforgettable experience to take home. So saddle up and get ready to explore the Wild West at Blazin' M Ranch!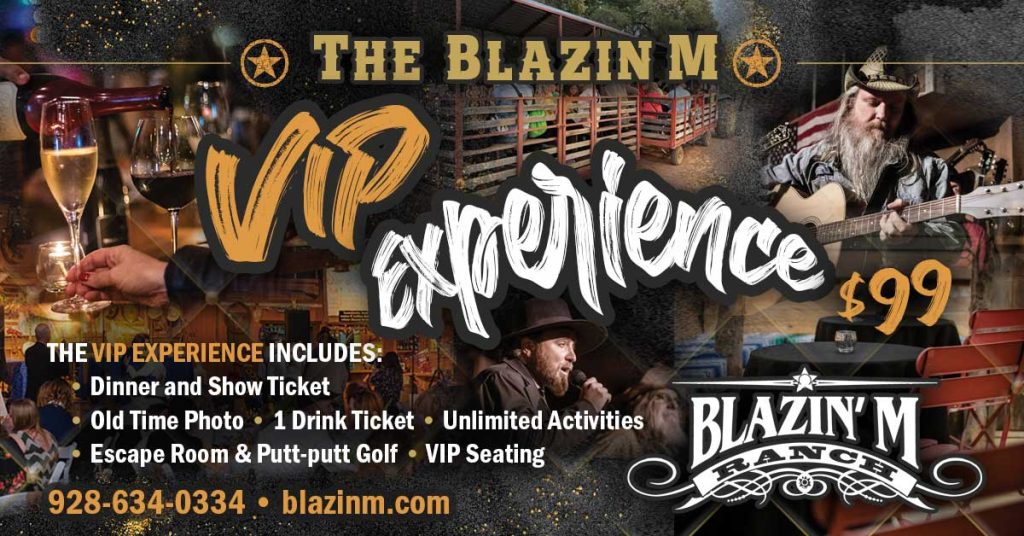 Looking for a unique and unforgettable experience for your group? Look no further than the Blazin' M Ranch! Located just 20 minutes from Sedona, in Cottonwood, Arizona, our Western Frontier Town offers a full service saloon, shopping, wagon rides, and other western activities that will transport you and your group back in time. And on show nights, the Blazin' M Ramblers perform a 1 hour Western show that will dazzle and entertain you after we serve up a delicious Chicken & BBQ Rib Dinner!  So why wait? Contact us today at 800-937-8643 or 928-634-0334 or email

[email protected]

to book your group reservation and experience the best of the Wild West at the Blazin' M Ranch!
Custom, private events can be created to meet your group's needs!
Looking for some fun things to do in Sedona, Cottonwood, or Prescott? Well, you are in the right place partner! Come early and belly up to the bar at a real Western saloon featuring some of Arizona's finest brews or enjoy some authentic western shopping.
When the dinner bell rings it's time to feast! We serve the best chicken and ribs in Arizona, along with foil wrapped potato, cowboy beans, our prickly pear coleslaw, flying biscuits and homemade caramel apple crisp with ice cream for dessert. If you like drinking, you'll love our saloon. If you like eating, you'll love our menu.
After dinner the Blazin' M Cowboys entertain ya' with their award-winning musical talents mixed with cowboy poetry and humor. Be wary of the Ranch's most infamous occupant, the Ghost Rider, lest he steal you away forever to ride the devil's herd across the endless skies.
HAPPY MOMENTS AT YOUR
LOCAL WESTERN RANCH