What would an Arizona Western Town be without a taste of local commerce? The Blazin' M Ranch offers unique shops for settlers of all ages. Come and explore a unique and exciting shopping experience that is great family entertainment with something for everyone!
The Frontier Town Shops look like an authentic Western town from the outside but you'll be amazed when you step inside at the great variety of today's hottest fashion accessories. In the old days, Arizona cowboys would stock up on ammo, flour, tobacco and whiskey but thankfully shopping has evolved!
Rodeo Drive is an elegant and contemporary women's boutique that every girl will love! The Branding Iron is packed with a variety of art, accessories and Blazin' M Ranch official merchandise.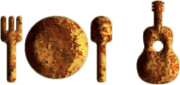 Got a hankerin' to explore the great Arizona outdoors? There's an adventure for everyone at Blazin' M Ranch. Museums, vintage tractor rides, a live shooting gallery, and ropin' lessons are just part of the fun at Blazin' M Ranch's Wild West Adventure.
Take a trip back in time and experience how the early pioneers lived and played in the Arizona frontier.
Stroll the Old West boardwalk where each step echoes the past. Stop at Rodeo Drive for women's fashions. Take home a taste of Arizona from Bootlegger's. Coming soon to the Blazin' M is new addition Gunslingers Mens Shop (keep your eyes peeled.)

The Branding Iron is a one-stop shop for logo memorabilia, books and housewares not found in a typical Western town. Immortalize your visit with a period photo taken at the Photo Op Shop. This is a western shopping experience for the whole family.

Come discover the wild west of Woody's world with plush horses, cap guns, chocolate rocks, award-winning children's literature and many other delightful western themed gifts and toys
A number of interactive adventures were added around the grounds of the Blazin' M Ranch during the renovation in 2010. Each activity is a new adventure designed to take you back to a simpler time, in the days of the old west when a man's biggest worry was where to hitch his horse at the end of the day.

A 1940's John Deere tractor powers the wagon ride for a spin around the ranch, including a spooky tour of the haunted forest that the Ghost Rider called home. Enjoy the signature sound of the tractor as it pulls you around the ranch and through history, past century-old, sunbaked, rusted farm equipment, reminders of an era when the horsepower of a farmer's equipment was measured by the number of horses pulling it across the ground.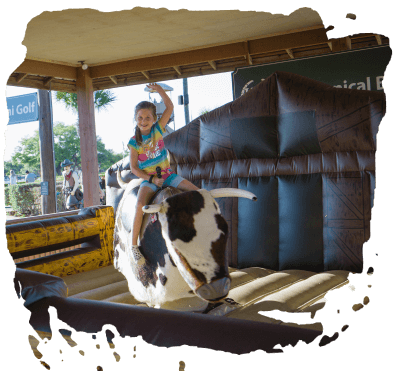 We have real live cowboys ready to hoist you onto a mechanical bull to try your hand at bull riding. They will start you off slow until you are ready for some real bucking action! This activity requires a signed waiver and is an additional cost to your entry ticket. 

Ever wanted to chuck an Axe? Well now you can! Get 6 throws to hit a bullseye for a chance to win a PRIZE! The Blazin' M is pleased to add this new activity for its guests. This activity requires a signed waiver and is an additional cost to your entry ticket.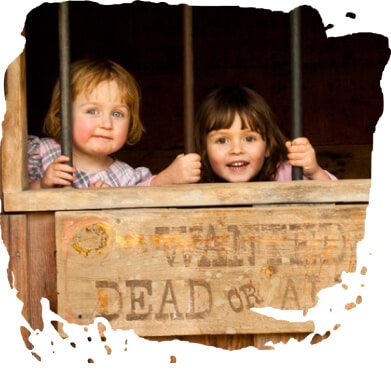 Throw yourself into jail and view the outside world from behind bars. See what it was like to be an outlaw in the Old West. We can close the door if you dare.
Try your hand at becoming the frontier town's best sharpshooter; compete with your friends and family or look to best your own personal record to win the Blazin' M Ranch Sharpshooter award! The targets may be paper but the gun is real: an authentic Colt .45 six-shooter full of (wax) bullets. This activity requires a signed waiver and is an additional cost to your entry ticket.
RED GARTER OLD
TYME PHOTOS
The Red Garter Old-Time Portrait Parlor offers a wide selection of period costumes, accessories and props for a classic shoot captured in nostalgic sepia tones by some of the best camera wranglers in the West! Here you can immortalize your visit to the Ranch and take a step back in time with a beautiful vintage photo of you and your party. Take your experience home in a custom mat of your choosing. (Pricing is based on party size)
These delightful handcarved characters come to life with the drop of a coin. The music starts and the antics begin as these movable miniatures re-enact a slice of history with Old West charm. Their detail and scale is beyond belief.
Woody's Toy Shop features an exciting collection of Western themed toys and gifts for children including hats, plushies, award-winning children's books and much more to delight your little cowpoke.
BOUTIQUE WESTERN SHOPPING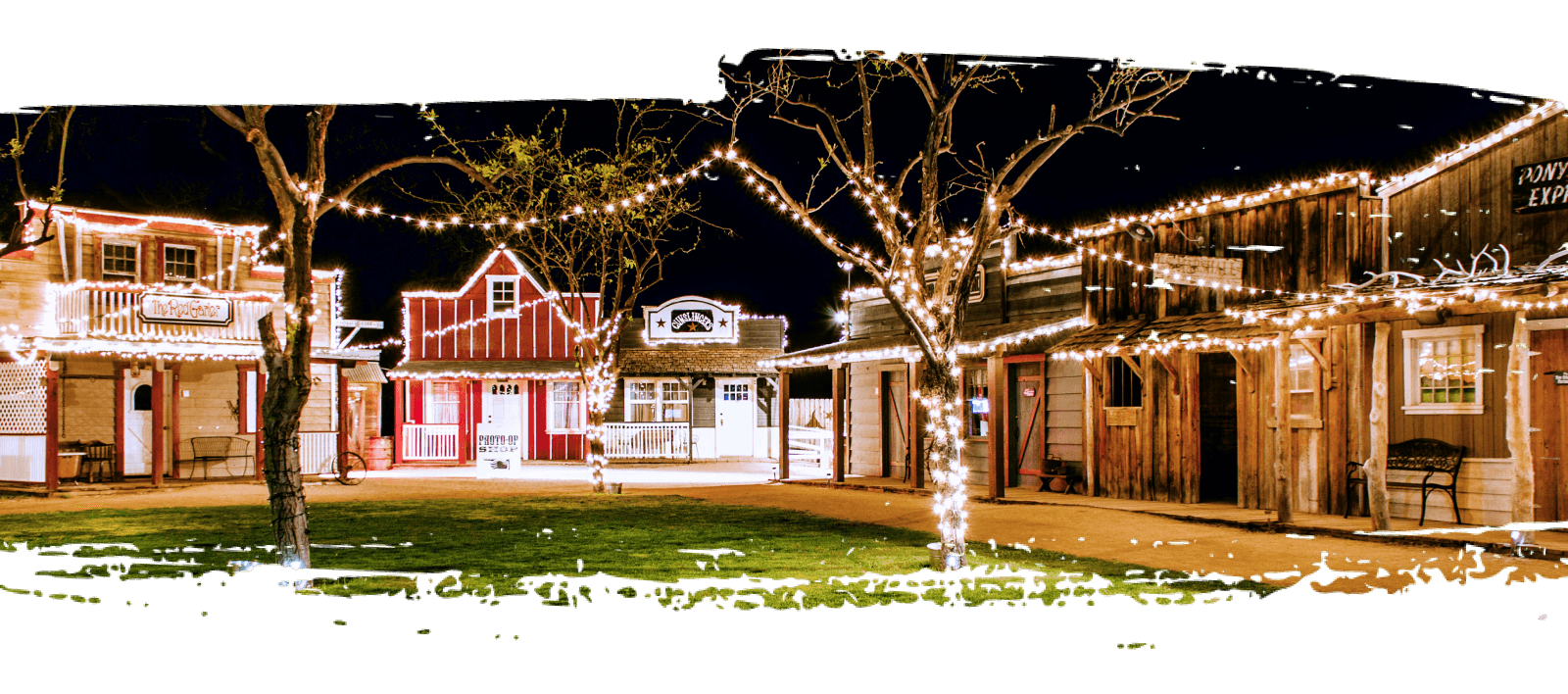 In 2010 the Blazin' M Ranch underwent an extensive renovation and renewed the friendly frontier welcome that one expected in a small Arizona community over a century ago.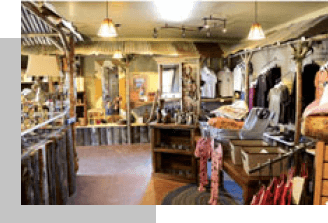 Wear your memories by getting official branded Blazin' M Ranch gear. This captivating store carries a selection of logo items including a tribute to everyone's favorite: the Ghost Rider. A vast selection of books with an Arizona theme and link to the Old West will captivate the history buff in you.

Our Cowboy Christmas display and collection of Western Toys for every Li'l Wrangler, whether a Cowpoke for a day or for a lifetime, is sure to bring lasting memories. Don't miss a stop at Branding Iron, the first stop along Blazin' M's boardwalk.
Bootlegger's carries southwestern edible favorites and cookbooks. From mild to wild, there's a taste of Arizona to sample and take home to enjoy with family and friends.
BOOTLEGGER'S (IN BRANDING IRON)
Rodeo Drive is an elegant and contemporary women's boutique that every girl will love! This charming ladies' boutique features clothing, accessories, sweet potions, novelties and bling that are in touch with today's fashion and decor with an unexpected link to the past.
Gunslingers at the Blazin' M Ranch caters to the real sharp-shooters as well as sharp dressers with a vast array of handsome gentlemen's products. Every real cowboy or cowboy at heart is sure to find some brag-worthy goods with items including knives, flasks, leather bracelets, t-shirts and cowboy hats. Get your cowboy that special gift to remember your adventure at Gunslingers.
We've just added a new shopping experience especially for kids located inside the Wood 'N' West Museum. This endearing shop has all the cowboy and cowgirl essentials your little wrangler could want. Woody's Toys and Treasures features Pistol Pete's Mine and everything ranging from two-gallon hats to tin six-shooters and plenty of other toys and treats for all ages.

We feature a selection of Southwestern themed story books great for any bedtime and adorable stuffed animals to accompany your child on their adventures! You're sure to leave the Blazin' M Ranch with a new way for your family to spend playtime together.
We've just added a new
shopping experience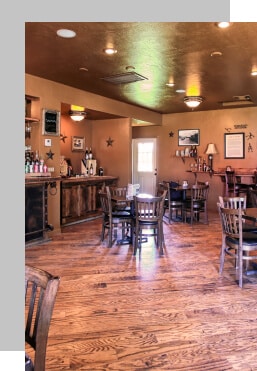 Feeling parched? The Arizona sun beating down on you got you thirsty? There's no better place than the Copper Spur Saloon to wet your palette! From fancy libations to kid friendly Sarsaparilla to local wines, we have all your drink needs covered!