February 2nd kicks off the 2022 Season For Blazin' M Ranch
We are pleased to announce that after a nice long Winter snooze by the fire, the Blazin' M Ranch will be reopening on February 2nd, 2022! We hope that you weathered the Winter well and the worst of it is over! 
Vittles, Vines, & Valentines
Before we get into the exciting things happening this year, make a note to get your tickets for our Annual Vittles, Vines, and Valentines Event that's taking place the night of February 14th right here at your favorite ranch! To reserve your tickets, click the link below!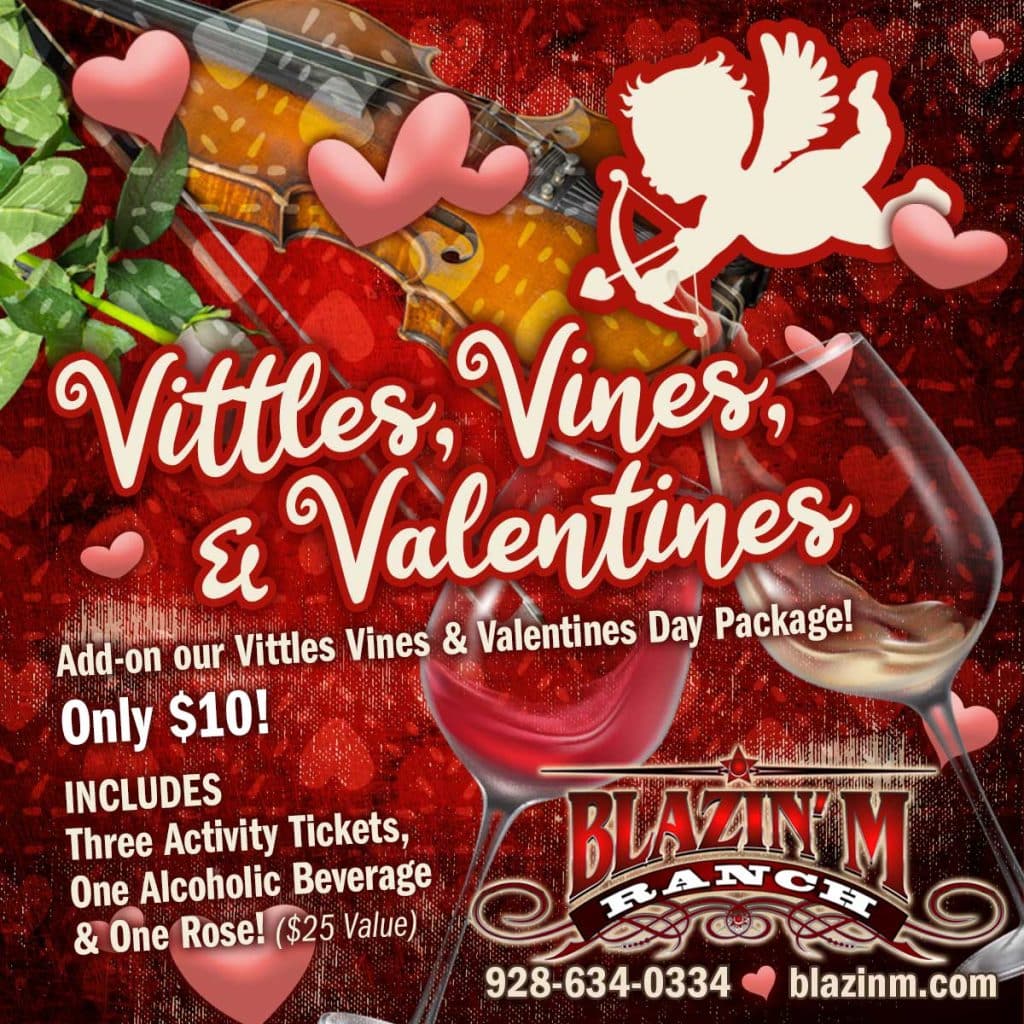 But by golly, we've got some AMAZING additions to the Blazin' M Ranch coming this Spring, and boy are we excited to tell you about them! First and foremost, we would like to thank our team members, the community of Cottonwood, and our beloved guests from over the years. Together, we made it through 2021, and we get to make 2022 whatever we want it to be! From the bottom of our hearts,
thank you.
So what's coming to the Blazin' M Ranch this year, you ask? To begin with, we have some special events to mark on your calendar!
Spring Fest – April 9th & 10th
Summer Fest – June 18th & 19th
Wet and Wild Day – July 23rd & 24th
Fall Fest – October 1st & 2nd
Halloween Fest – October 29th
Winter Fest – December 3rd, 4th, 9th & 10th
These events will include live music, games, crafts, exhibitors, bull riding contests, bounce castles and a lot more!  Check back on our website as the events get closer for more information!
In addition to this spectacular line of events, we're also making a few improvements around the ranch, beginning with a dueling ally where you can duel your favorite sibling, spouse, or even child with our water-soluble gel pellets!
In April, we'll be opening up a fun park right here at the ranch called Be Wild At Blazin' M, which will be fully equipped with an Obstacle Course, RC Car Racing Track, Face Painting, Inflatables, Rock Climbing, and more! 
Be Wild at Blazin' M will be open on weekends from 10:00 am – 5:00 pm from April 16th until the end of October! So stay tuned for more details about this fantastic addition to the Ranch!